Multi-Cloud Solutions Provider
eBizonCloud offers end-to-end multi-cloud solutions tailored to your specific needs. With a focus on performance, resilience, and security, we help you maximize the return on your investment on Cloud infrastructure.
We offer timely deployment of cost-effective solutions, with a strong commitment to excellence, thus earning the trust of our customers as a bankable system integrator in Oracle Solutions.
Our best Solution for your project
Metus sed volutpat amet duis sagittis mino mauris donec montes cras volutpat Scelerisque integer ac purus.
We bring latest business trend for you to model and provision , cloud resources in your cloud environment
We Design to enable companies to more rapidly and reliably build and deliver products using best practices.
We Innovate, change operating and business models and leverage emerging technology with Advances in Digital Technologies.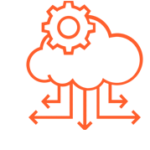 Each successful migration decides no single solution as best approach. We experience gained from helping several organizations move their IT portfolios to the cloud.
We are experts in managing the security, scalability, efficiency, and reliability of the Architecture that keeps your business running.
We focus you on your core product instead of worrying about managing and operating servers or runtimes, either in the cloud or on-premises.
Contact us today to learn how we can help you modernize your infrastructure, improve your operational efficiency, and enhance the overall agility of your business.